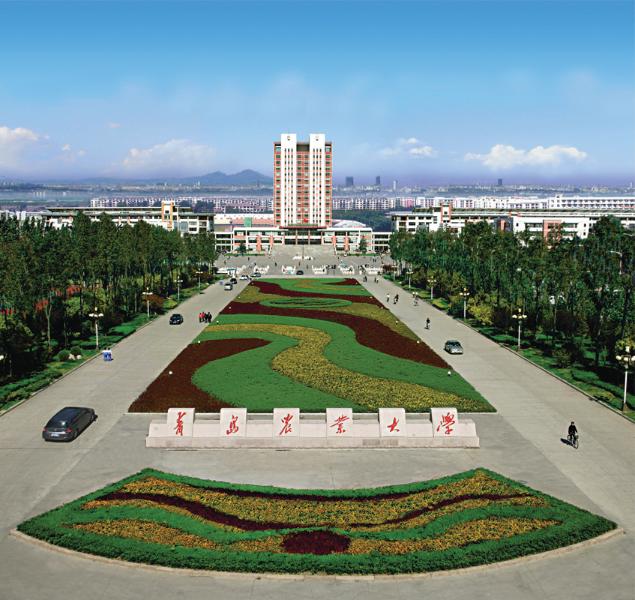 Qingdao Campus of QAU
Qingdao Agricultural University(QAU) was founded in 1951 currently with four campuses, located in Chengyang, Pingdu, Laiyang and Langu respectively, and Jiaozhou Modern Agricultural Science and Technology Demonstration Park. The school, whose total construction area is more than 1.1 million square meters, covers an area of 5,220 mu(about 348 ha) with the campus green coverage rate being 59.7%. The total value of the instruments and equipments of the university is up to 399 million CNY.
In 2012, QAU was awarded the first batch of key construction universities under the "Shandong Famous School Project". In 2017, it was listed as a Class A Unit for the Establishment of Doctoral Degree Granting Project in Shandong Province. In 2018, it was listed as a first-class discipline project construction unit in Shandong Province. Since the establishment of the school, more than 130,000 full-time graduates have been cultivated for the society. QAU has 8 discipline fields including agriculture, engineering, science, economics, management, literature, art and law. It has 24 teaching colleges, 78 undergraduate majors, 14 first-level Master's degree programs, and 5 professional Master's degree programs. The number of full-time students of the university is more than 30,000.
Laiyang Campus of QAU
QAU has 1969 full-time teachers, among whom 951 have senior titles and 987 have Doctor's Degree. Since the 10th five-year plan, QAU has a total of 8 key disciplines in Shandong Province. The aquatic science discipline is the first-class discipline of Shandong Province. Botany and zoology and agricultural science have entered the top 1% of ESI global rankings. There are 6 key laboratories of Shandong Province and 3 Provincial humanities and social science research bases of Shandong Province.
QAU insists on setting up research projects centered around major national and local strategic needs, and conducts basic and applied research for production practice. Since 1978, it has won 11 items of national-level science and technology awards,and has made brilliant achievements in crop breeding, biological pesticides, animal breeding, root crop production equipment and seed production equipment research, animation art and other fields.
The farm in Jiaozhou of QAU
The university actively meets the needs of industrial development, and has obtained remarkable results in social services. QAU has founded the first cooperative college in China, established comprehensive strategic cooperative relations with 36 cities (counties and districts), built 37 comprehensive service demonstration bases, characteristic industrial bases and research institutes,and established distributed service stations and expert workstations in more than 200 enterprises and cooperatives. The university undertakes more than 500 social service projects annually and train more than 40,000 talents .
QAU thoroughly implements the concept of Education Branding internationalization, and has established cooperative relations with more than 80 universities and research institutes in more than 20 countries and regions, including Cornell University, University of British Columbia, Seoul National University, Wageningen University, Murdoch University of Australia etc. Through mutual exchange of visiting scholars and students, QAU has carried out cooperative research and upgraded the cooperation fields.
Hongzi Lake
Contact
International Office of QAU
TEL:+86-532-86080649
Email:iao@qau.edu.cn
Address:No. 700 Changcheng Road, Chengyang, Qingdao, Shandong, China.
P.C. 266109
(Updated in November 2019)